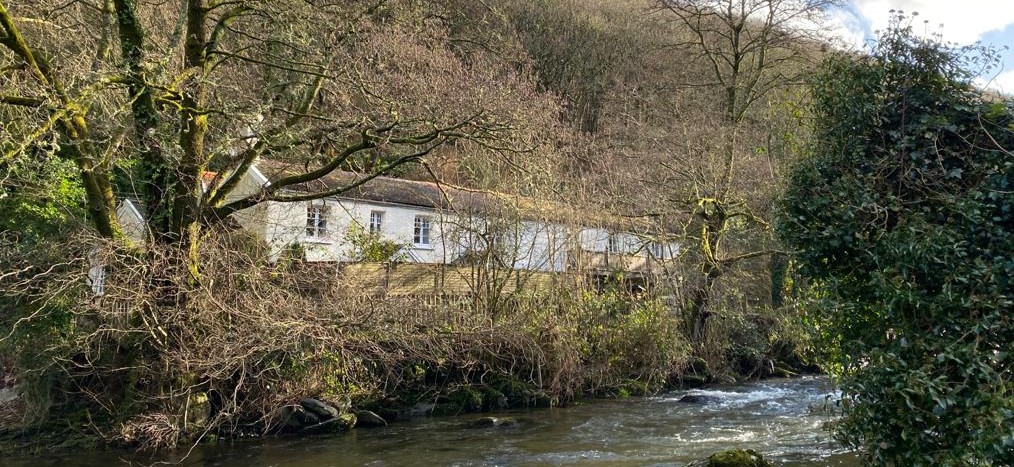 Primrose Cottage was built at the turn of the 19th century as a fishing lodge. Today, this newly renovated endearing cottage is a family home to Kat & Simon but also available to let throughout the year. It will suit up to four people.
It is a simple, elegant, romantic home from home, equipped to a high standard. The cottage has a relaxing natural colour scheme throughout, which is inspired by the surrounding environment. Every detail has been carefully looked after to create a soothing home that promotes the gentle rescue of a tired body and soul.
Primrose Cottage is located in the heart of Exmoor, steeped in nature and nestled in its valley next to the East Lyn river. It is charmingly only accessed by a small foot bridge or the rocky ford, by which the hamlet of Rockford gets its name. Primrose Cottage is a paradise for couples, fly fishers, hikers, photographers, and nature lovers looking to get away from it all.
The East Lyn river, which is literally on the door step, offers wild Brown Trout, Sea Trout and Salmon fishing across 20 pools along miles and miles of fishing. The Rockford Inn across the bridge, is a cosy 17th century country inn that offers a warm welcome, local beer and classic pub meals.
The walking in the valley and on the moors is breath-taking. The famous Watersmeet is a short walk away and the sea only an hour's walk from the cottage.
The small coastal towns and beaches of Lynton, Lynmouth, Porlock and many villages offer a huge variety of things for the active (and not so active!) to enjoy.
"Not felt so relaxed in ages."
"Wow! An amazing holiday, fabulous cottage and so many beautiful things to see and do! We'll be back!"
Great week. Very comfortable cottage. Plenty of fish!
Cannot fault anything. Excellent in every way!
A little bit of heaven, in Devon.
Dogs loved it!