As Europe's first International Dark Sky Reserve, and with some of the darkest skies in the UK, Exmoor National Park is the ideal place for all visitors to stargaze.
We are proud to be an Exmoor Dark Sky Friendly Accredited Business.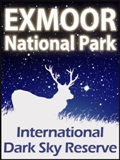 Primrose Cottage is within a few minutes of some of the best spots to see the wonder of the night sky. Telescopes can be rented from the National Park Centre at Lynmouth, fifteen minutes away by car.
You can find more details of the Exmoor Dark Skies Reserve here and further details about stargazing here.
Primrose Cottage is well equipped for stargazing with guides to the best locations, binoculars, star charts and guides for beginners, and a thermos flask and blankets for staying warm if you go out at night. There is a lot that can be seen simply with the naked eye!
We are protecting the Dark Skies of Exmoor with black-out curtains and reducing light pollution by having no external lighting except a shielded, motion sensitive, time restricted, security light.
Watch the video to discover what you can see!